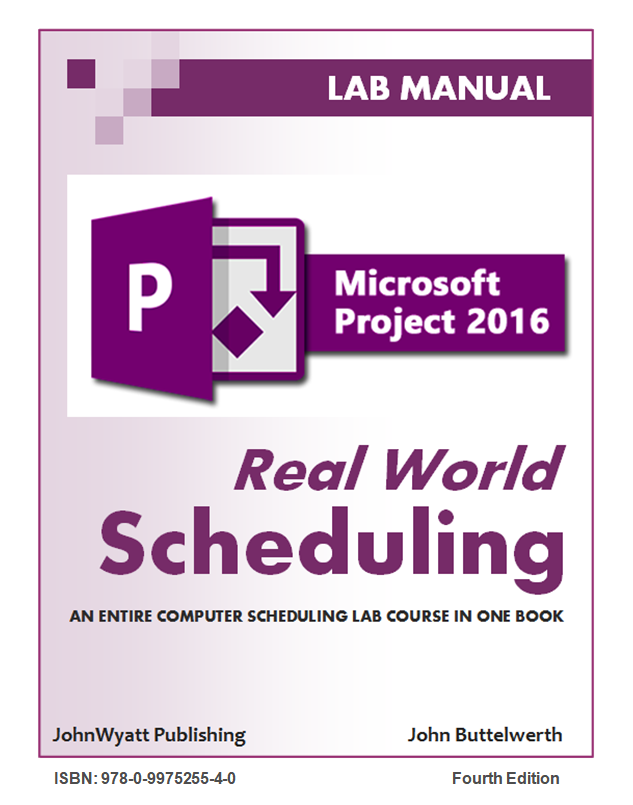 MS Project 2016 - Real World Scheduling (4th Edition) (R.2)
$ 79.95
Look for 2013 version? Click here
MS Project 2016 Real World Scheduling (4th Edition) (R.2) is called "real world" because the author wrote it drawing upon his 40+ years of experience consulting with contractors to help them meet their construction scheduling software needs, as well as his 30+ years teaching construction scheduling softwares at the college level.  He knows how students learn and how contractors use scheduling software, what's important to them - and what is not!
This manual has been tested and retested in both the classroom and the company training room.  It will guide you thru some of the quirks of MS Project 2016 as well as teach you how to use the software the way contractors use it.  Other software manuals are often hundreds of pages long filled with dense text that wastes your time trying to cover every corner and nuance of the software - ultimately leaving readers more confused than before they started.
Microsoft Project 2016 Real World Scheduling assumes that the reader has no previous exposure to the software and takes the reader through the process of creating a schedule covering the same features that a contractor would include on their typical schedule.  This includes creating and saving the schedule, covering numerous formatting options to customize the look of the schedule, working with calendars including 50% and 100% weather calendars, then activity coding the schedule to organize the tasks using both Custom Task Groups and  Summary Tasks.  Different views of the schedule are explored and from there the schedule is resource loaded and cost loaded, including a real world analysis of an over-allocation of resources.  The schedule is then Baselined and updated covering all possible update scenarios that may actually occur. You then learn how to use filters and create Look-Ahead schedules and finish up creating a Multi-Phase schedule that is very typical of commercial construction schedules.
If adopted for your course, the professor is provided with an Instructor's Package that contains everything needed to teach your course  and  to adapt it to an on-line format including the solutions manual, all (20) Project schedule files that your students will create throughout the manual, the end of lab Schedule Analyses, sample tests with the  answer keys, and much more - all in a digital format to be used as is or customized to fit your course.
With this manual and a few hours of your time, you will be ready to effectively use MS Project 2016 on a real project - or - teach it to your students the way contractors use it.

This manual can easily be used with the 2010, 2013, and 2019 versions of Project.
Related Products